Kris Lager Band with Float Like A Buffalo @ The Black Buzzard
January 29 @ 8:00 pm

-

11:30 pm
7:00 PM Doors | 8:00PM show | 18+ | Bar with ID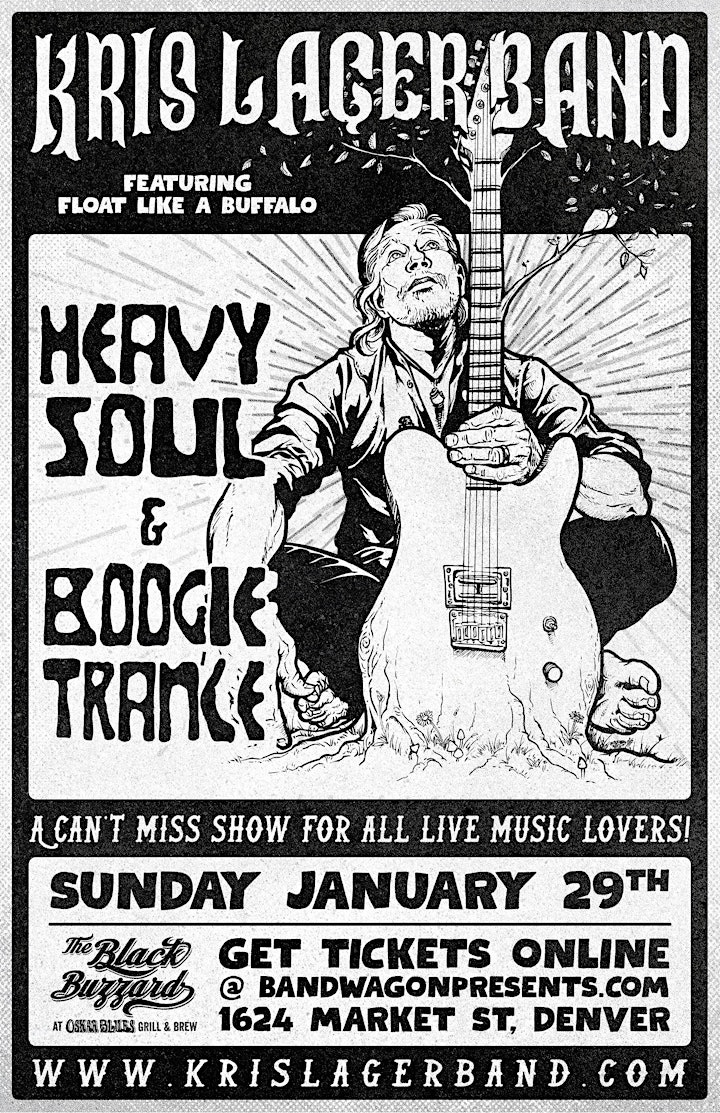 Kris Lager has become an underground cult hero of sorts. An uncompromising musician and charismatic performer who has cultivated a grassroots following and a career spanning over two decades. He has developed a unique 'Celebrate Life' message and mantra that emanates with every performance. A message that creates a congregation of dancing, singing, and clapping people with smiles on their faces everywhere he goes.
He has fused together his passion for blues, soul, funk, zydeco, country, and almost every other 'American Roots Music' into a contemporary and refreshing musical gumbo full of soul and spiritually uplifting rhythms and melodies.
Many people are calling him one of the finest songwriters, performers, and guitarists of his generation and for good reason too. Kris Lager's gravely voice and stirring lyrics combine the realness and authenticity of the blues with a keen sense of the human condition.
​Last year World-Renowned Musician and Podcaster, Andy Frasco called Kris "His favorite songwriter!" and also said Kris has inspired a lot of his songs and his desire to have an upbeat and positive stage persona.
Multiple Grammy Award winning and Legendary Rock 'n' Roll Producer, who has mixed two of Kris' albums, Jim Gaines (Santana, SRV, Van Morrison, Steve Miller) says Kris has "A great voice and great songs!"
Paste Magazine explains the music as "The kind of toe-tapping rhythm that sometimes you just need to make it through a day."
A Lincoln native based out of Omaha, Nebraska, Kris and his band have built a reputation as a hardworking Independent band refusing to play by industry rules or pander for awards and accolades. They just hit the road and the stage with an intense purpose of expressing themselves through uplifting music while engaging and respecting their audiences.